Located in the Mission District of San Francisco, Movement Lab is a spacious, light filled studio, with equipment handcrafted locally by Balanced Body Pilates of Sacramento. Our studio has a friendly, non-competitve atmosphere and welcomes both seasoned pilates, GYROTONIC and GYROKINESIS lovers and those just beginning their discovery. We have a wide range of clients and are happy to have infants and toddlers in our Parent's classes.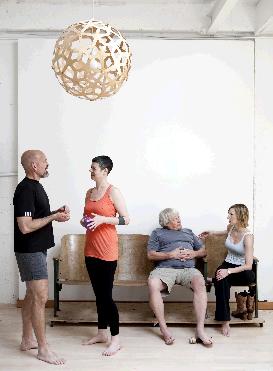 What We Offer

Movement Lab offers private, semi-private and small group classes in Pilates, GYROTONIC, GYROKINESIS, and Core Align.
Pilates Equipment classes have a three person maximum, giving you a semi-private experience so you get the most out of your time and dedication. Similarly, our mat classes allow only 3-6 people, so we can give you guidance and corrections to enhance your workout.
Movement Lab's privates and small group classes in GYROKINESIS and GYROTONIC are a great compliment to Pilates and other forms of exercise, like swimming, running, biking, climbing and weight lifting, that tend to move the body in limited ranges of motion. This system of exercise, with it's emphasis on undulating, spiraling, and flowing movement is terrific for rebalancing the body, releasing tension and overall body conditioning.
In addition to GYROTONIC, GYROKINESIS and Pilates, Movement Lab is excited to offer one on one instruction in Core Align. This innovative system, created by Physical Therapist Jonathan Hoffman, offers a new method of movement training that utilizes standing neutral body alignment as a baseline for fostering better balance, posture and functional movement patterens. It is highly effective for addressing knee, hip and ankle alignment issues in it's use of standing posture and it's numerous exercises that mimic optimal gait or walking patterns.

Trainers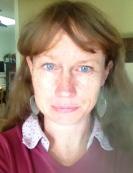 Julie Binkley
Owner/Trainer

Certified STOTT PILATES
Certified Pregnancy Fitness and Postpartum Rehabilitation Specialist
Certified GYROTONIC, GYROKINESIS, Leg Extension Unit, Archway
MFA Dance: Choreography and Performance, Mills College
Julie founded Movement Lab out of a lifelong love of movement and a desire to share her ongoing study of a healthy moving body with others. Julie continues to hone her ability as a teacher through specialized training programs and classes with master teachers in Pilates, GYROTONIC, Physical therapy, contemporary dance, and somatics.Continuing education in Pilates has led her to certifications in The Women's Center for Pregnancy Fitness and Postpartum Rehabilitation Program, Rehabilitative Pilates with Lizz Roman, Stott Injuries and Special Populations with Melissa Condron, The Upper Quadrant, Scoliosis and MET workshops with Madeline Black, Marie Jose Blom's Smart Spine course, and Irene Dowd's Free the Neck Workshop. Julie received her GYROTONIC trainings with master trainers Debra Rose and Nora Heiber of SAN FRANCISCO GYROTONIC. She has completed training in Core Align I and II with Nancy Myers. Recently, Julie attended workshops with Physical Therapist and Author of "Walk Yourself Well" Sherry Brouman, and "Anatomy Trains " author Thomas Myers.
Harriet Mcmeekin
Certified GYROKINESIS and GYROTONIC Trainer
Harriet was initially introduced to the GYROTONIC EXPANSION SYSTEM in a Pilates class while pursuing her BFA at The Boston Conservatory in 2002. She was reintroduced to the system when she moved to the Bay Area to continue her professional ballet career with The Oakland Ballet (2005), Ballet San Jose (2007-2013), and with The Suzanne Farrell Ballet (2013). She became a certified Gyrotonic trainer in 2009 (Nora Heiber, San Francisco Gyrotonic), and a certified Gyrokinesis trainer in 2012 (Debra Rose, San Francisco Gyrotonic). She is currently pursuing her certification in Pilates inspired by her longtime Pilates trainer, Ann Beck (San Francisco, CA), and the instructor that originally introduced her to the Pilates method, Edgar Tirado (Anderson, SC).
She is a firm believer that exercise is for everyone, no matter what your current level of fitness, and that Gyrotonic exercise is wonderful way to challenge and invigorate your body in a coordinated, integrated, and fun way. She had the opportunity to apply her knowledge of the rehabilitative possibilities of exercise to her own recovery process and successful return to her dance career after hip surgery in 2012. Harriet brings her personal experiences with Pilates, cycling, competitive swimming, Alexander Technique, Laban Movement Analysis, The Franklin Method - in addition to a variety of classical, modern, and social dance techniques - to her teaching.